On May 30, 2020, Manager Fan of the Product Department conducted a new product release training for all the company's sales staff for the new Industrial Switch--NIE8052PG (PD).
Feature
It has 4*10/100/1000M POE downlink ports, 1*10/100/1000M Ethernet uplink ports (with POE in) and 2*1000M SFP fiber ports.
It also support 4 ports POE power each up to 30W which complies with IEEE802.3af and IEww802.3at standard.
Function----Auto-check
Manager Fan showed us the unique function of our company's switch----Auto-check function. That is, when the terminal equipment is stuck and cannot receive the signal, the switch will send signals to the terminal equipment for three consecutive attempts, and if there is still no signal, the switch will automatically restart. Which means that it can automatically detect the frozen PD equipment and restart the ports` output of PSE, and restart the PD device. The whole process takes about 70s. The time is extremely short, but it can save a lot of manpower, material and financial resources.
Function----Relay-alarm
Immediately afterwards, Mr. Fan demonstrated the relay-alarm function, that is, if the switch has any bad status (power off/network broken/POE off) , it will alarm. If an external alarm device, such as a bell, is connected, you can know and repair the fault at the first time. However, within three minutes of connecting the alarm device, it is regarded as a debugging state and no alarm will be given.
PSE (Power Sourcing Equipment) & PD (Powered Device)
NIE8052PG (PD) is a PSE (Power Sourcing Equipment) which can supply power to PD (Powered Device), such as POE terminal devices, POE splitters, and POE power receiving switches. It is also a PD that accepts other PSE to power it, which solves the problem of inconvenience of directly connecting to the power supply, and extend the transmission distance.
Operating Mode
Most of our company's switches support three modes-default mode, extended mode and VLAN mode. NIE8052PG(PD) provides two modes of Default and VLAN to adapt to various complex environments. Among them, the VLAN mode and the extended mode can prevent the downlink ports of the switch from communicating with each other and only communicate with the uplink ports. This can improve the transmission efficiency of the network, avoid network storms, and improve the security of information.
Protection
Surge protection: 6KV--Industrial Level Ⅳ(Maximum protection level)
Contact ESD protection: 8KV
Air ESD protection: 15KV
Even in areas with heavy thunderstorms, this level of protection is completely sufficient.
Endurance
It supports working temperature -40℃~75℃.
Finally, I believe that through this training, everyone will be familiar with the new products faster and have a deeper understanding of the new products.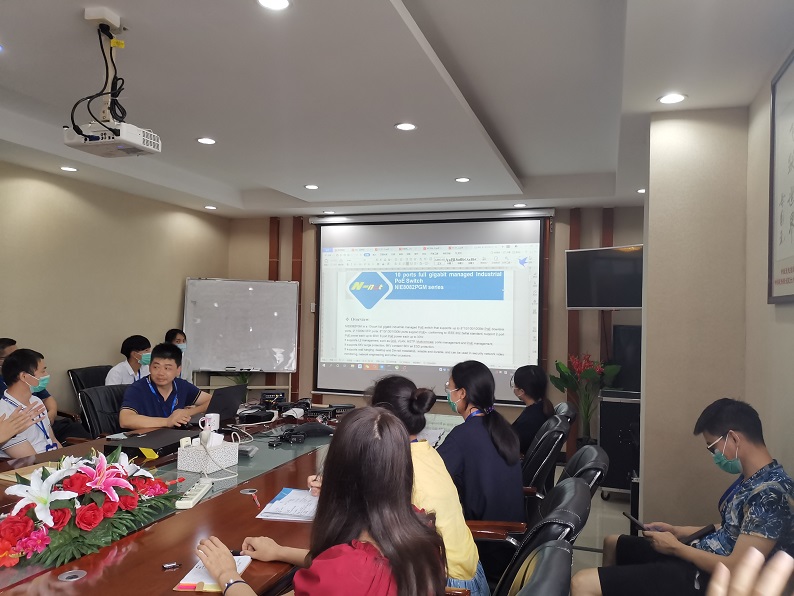 Shenzhen N-net High-Tech Co.,Ltd
Business Type:Manufacturer
Product Range:Network Switches , Alarm , Network Switches
Products/Service:POE Switch , Network Switch , Media Converter , Industrial Switch , Fiber Switch , Ethernet Over Cable
Certificate:ISO9001 , CE , FCC , RoHS
Company Address:5-6 floor, C Building, Yiyuantong Industrial Zone,Xuexiang Community, Bantian, Longgang District, Shenzhen, Guangdong, China
Next:
Has started working normally