Overview
User-side network management can be divided into three main ways:
NT-IN111D is Fast Ethernet Switch 10/100M equipped with one 10/100M UTP port and low-speed data. It provides one 10/100Base-T ports, 3 low-speed data ports and one 100Bse-FX port.
The first is to run a specific protocol between the central office and the client device. The protocol is responsible for sending the client's status information to the central office. The central office device's CPU processes these status information and submits it to the network management server.
With strictly industrial design, it is fundamental guarantee for stability and practicability to flexible extends transmitting distance of the Ethernet and low speed data in the extreme industrial environment.
The second is that the optical fiber transceiver at the central end can detect the optical power on the optical port, so when there is a problem on the optical path, it can be judged according to the optical power whether it is a problem on the optical fiber or a failure of the user equipment;
Apply NT-IN111D Industrial Media Converter equipping low-speed data port with NT-IN114D Fast Ethernet Switch 10/100M, the buffering of heavy traffic burst, rate smoothing of network service and remote transmission of low-speed data can perfectly resolve, having the leading feature advantage in this field.
The third is to install a main control CPU on the fiber transceiver of the user end, so that the network management system can monitor the working status of the user end device on the one hand, and can also realize remote configuration and remote restart. Of the three user-end network management methods, the first two are strictly remote monitoring of user-end equipment, and the third is true remote network management.
NT-IN111D Fast Ethernet switch 10/100M can install in control cabinet by adopting optional way of DIN-RIAL or Wall mount.
However, since the third method adds a CPU to the user end, which also increases the cost of the user equipment, the first two methods will be more advantageous in terms of price. With the increasing demand for network management of equipment by operators, it is believed that the network management of fiber optic transceivers will become increasingly practical and intelligent.
It is a compact product, supporting wide working temperature, redundant power input, IP40 protection, LED indicator light, being a best choice for the industrial special application and a reliable solution for your industrial Ethernet connections.
Features
Procotols: IEEE802.3/u, 10Base-T.100Base-TX
10/100Base-TX can automatically identify the direct line and cross-line, is compatible with Various cards, switches, HUB and other Ethernet devices
Take cut-through and forward technology, efficiently reducing the time-delay on network.
Support Max up to 11K Bytes packet transmission
Support cut-through transmission and full-duplex flow control / half-duplex back pressure mode
Support 3 low-speed data port, each can set as a separated RS232,RS485 or contact closure type.
Low-speed data passage adopt Time Division Multiplexing transmit, that makes low delay and easy apply without occupy IP address.
Low-speed data port support 0-115200bps speed
Low-speed data port support multi protection from lightning, surge, overvoltage and ESD
12V to 48V DC or 24V AC Wide power input, redundant power and reverse polarity protection
This Fast Ethernet switch 10/100M Support remote power off detection and indication
-40 To 80℃ operating temperature to meet a variety of complex environments
IP40 protection standard housing
Power port and Ethernet port supports ESD protection and EFT protection
DIN rail and panel mounting for efficient usage
This Fast Ethernet switch 10/100M Support dual-fiber multi-mode, dual-fiber single-mode and single-fiber single-mode fiber port selection, expanded the needs of users
Specification:
Parameter Specifications
Design Level Industrial grade IP40 design standards
Access mode 10/100Mbps
Standard IEEE802.3/u.10Base-T.100Base-TX
Wavelength 1310nm/1550nm
Transmission distance Dual-fiber multi-mode:2 km
Single fiber single mode: 20/40/60/80/100 km
Dual-fiber single mode:20/40/60/80/100 /120 km
Category-5 twisted pairs: 100m Port One RJ45 port: Connecting STP/UTP category-5 twisted pairs, EIA568A/B
One optical port: Multi-mode :SC / FC/LC(50/125, 62.5/125μm)Single mode : SC / FC/LC (9/125)
3 low-speed data port, Industrial terminals, connecting to RS232,R485,contact closure according to the setting
Conversion means Store and Forward mode or Time division
Flow control Full duplex: flow control; Half duplex: back pressure
BER <10-9
MTBF 50,000 hrs
LED indicator L/A(Link/Transmit),100M(Speed),
PWR(Power),RPF(Remote power-off),SD(Fiber signal)
D1(Data passage 1 signal),D2(Data passage 2 signal),D3(Data passage 3 signal)
Power supply Power Input Range: 12 ~ 48VDC/24VAC ,
6-PIN Terminals, Redundant dual power, support power-off detection
Power consumption <2W (without PSE function)
Operating temperature -40~80ºC
Operating humidity 5%~90% non-condensing
Storage Temperature -40~80ºC
Storage humidity 5%~90% non-condensing
Dimensions 155mm(length)×125mm(wide)×50mm(height)
Certification
EMI FCC Part 15, CISPR (EN55022) class A
EMC FCC,CE
EMS EN61000-4-2 (ESD), Level 4
EN61000-4-3 (RS), Level 3
EN61000-4-4 (EFT), Level 4
EN61000-4-5 (Surge), Level 4
EN61000-4-6 (CS), Level 3
EN61000-4-8, Level 5
EN61000-4-11
Shock IEC 60068-2-27
Free Fall IEC 60068-2-32
Vibration IEC 60068-2-6
Green product RoHS
Product Picture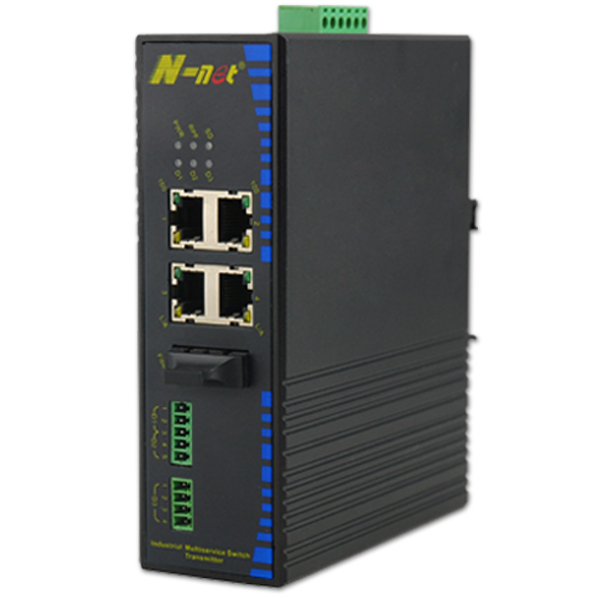 Looking for ideal One Fiber Port Fast Ethernet Switches Manufacturer & supplier ? We have a wide selection at great prices to help you get creative. All the Four Ports Fast Ethernet Switches are quality guaranteed. We are China Origin Factory of Low Speed Data Ethernet Switches. If you have any question, please feel free to contact us.
Product Categories : Industrial Media Converter > Industrial Fast Media Converter